Vision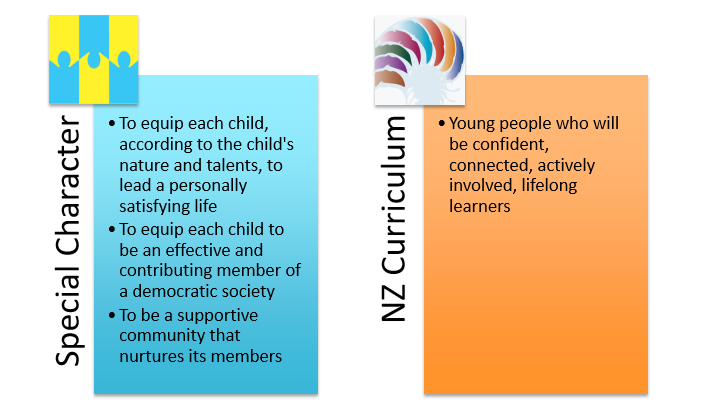 The Vision from the Special Character
The culture of our school and our pedagogy (the way we teach and learn) provides our students with competencies and skills that enable …
A personally satisfying life
Because they:
· know themselves, and have developed talents and skills personal to them
· take responsibility for their own learning and preparing themselves with the appropriate skills for high school/life
· have high self-management
· have creative thinking/problem solving skills
· connect and interact well with others
Contributing as a member of a democratic society
Because they:
· have experience in democratic self-governing
· have an awareness that they can bring about change
· have the social ability to communicate and cooperate with others (this includes conflict resolution skills)
· will take responsibility for their own actions
and we will…
Nurture community members
Because we all:
· acknowledge and value the uniqueness of each member
The Vision from the NZ Curriculum
The culture of our school and our pedagogy (the way we teach and learn) provides our students with opportunities to become…
Confident
by having:
· high self esteem
· realistic self-understanding
· experience in how to set and realize one's own goals
· knowledge of how to get help and support in a range of ways
· able to ask to join in other students games/activities
· able to participate in a wide range of activities at or away from school e.g. school camps, interschool sports games, school concerts, attending lessons provided by outside instructors etc.
· problem solving skills
Connected
because:
· emotional, intellectual and physical needs are met
· social skills are well developed
· authentic learning occurs in meaningful contexts (this supports an attitude that learning is intrinsic, important, and can be exciting)
· learning often occurs in cooperatively in groups, with other children across ages and stages
· of the continuum of learning between home and school
Actively Involved
because:
· they help create the contexts for learning
· there are no barriers between learner and teacher
· they expect to create their own daily activities
· they work co-operatively
· they make decisions about the daily life of the school
· they manage themselves to work independently
Lifelong Learners
through:
· developing the necessary literacy, numeracy and thinking skills
· developing the social, and self-management skills
· encouraging self-belief, imagination, and connected interest to the world around them
· experience at seeking out support and information to develop their knowledge in a topic or skill
· personal motivation to choose their own learning areas and pursue them. They do not require an outside participant to tell them what to learn.
This page was last modified on: 16 Jun 2017 20:58:15