Our Principles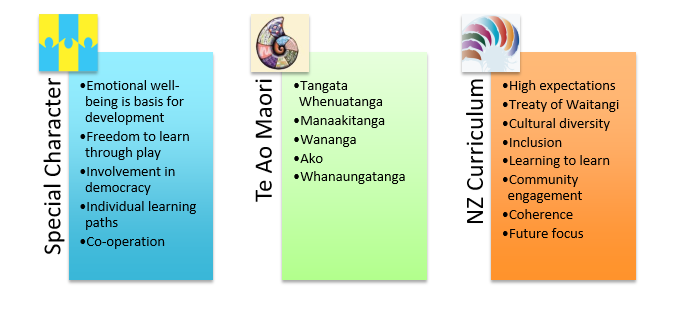 The Principles from the Special Character
Our Curriculum is based on the following Special Character principles…
Emotional well-being is basis for development
The Special Character supports the emotional well-being of the child as this is seen as the basis for cognitive, social and physical development.
Freedom to learn through play
The Special Character supports the children to learn in a deep and holistic way through play and self-selected activities.
Involvement in democracy
The Special Character expects participation in democratic processes for decision making and dispute resolution.
Individual learning paths
The Special Character acknowledges that each child has an individual learning pattern, interests and priorities.
Co-operation
The Special Character encourages the development and practice of co-operation, respect and trust amongst the school community and the wider community.
Te Ao Maori – Principles and Learning Contexts for Maori and all students
Our Curriculum embraces the following learning contexts and principles that have been identified by the Ministry of Education as the best support for Maori learners to achieve educational success as Maori. We believe that these principles benefit all learners in our Special Character context, not just learners who identify as Maori.
Tangata Whenuatanga
The learner is not separate from their place-based context of belonging: whanau, whenua, hapu, iwi, etc. Learning starts with "who I am and where I come from", rather than imposed content that is not connected to the student and their own place-based knowledge.
We support:
· Genuine learning that starts with students own knowledge, interests, and "next steps"
· Learning content that considers who we are, where we come from, and what we believe
· Whanau participate in school life
· Learning that is seamless between home and school
Manaakitanga
Our values and how we live these in caring relationship to others.
We support Manaakitanga by:
· Modeling and expecting clear ethical values
· Student participation in making agreements and rules about caring for ourselves and others in school meetings
· Modeling and expecting hospitality to visitors
· Respecting tikanga Maori (e.g. not sitting on tables)
Wananga
Communication, problem solving, innovation
At Tamariki we support this capability by:
· Working things out together. Everyone here (students, parents, teachers) are part of a participatory democracy. Using the meeting system to solve problems/issues.
· Learning by teaching/learning from peers; tuakana/teina
· Open learning discussions
· A culture of inquiry and curiosity where everyone is seen as having knowledge to share. Knowledge is seen as something we build together.
Ako
Learning and teaching that is genuine for the learner—an intrinsic process that is natural to being human.
· The students are able to be the 'teachers', not just the adults, and because of this the students regularly share knowledge and skills with each other, and the adults. This occurs across the whole spectrum of school life, much of it during play.
Tamariki's entire pedagogy supports this paradigm of learning and teaching, and the adults are in a constant process of reflection and review to improve this capability.
Whanaungatanga
Relationships
At Tamariki, learning is understood to occur in the context of many relationships;
· Children at Tamariki develop strong bonds with the adults at Tamariki and through these the child has the capacity to know and understand with whom they can communicate a specific need whether it be an emotional social need or a learning need
· Having parental/whanau involvement in the daily life of the school
· Regular parent meetings to connect us all to what is happening and to solve problems together
· Drawing on the skills and cultural knowledge of parents and feeding this into the learning.
We see learning as social, and support students to develop their social learning capability by:
· Prioritising the resolving of conflicts together, even if it means stopping a pre-planned class
· Giving students the chance to learn about how their behavior affects others through conversations, school meetings, natural consequences
· Talking about the ethics of relationship in meetings and in general discussions
· Creating a structure that encourages children to learn from each other in a natural way
The Principles from the NZ Curriculum
The principle from the New Zealand Curriculum which underpin life at Tamariki School are:
High Expectations
We expect:
· Progress and growth to occur in each child holistically: emotionally, socially, intellectually, physically
· Children to follow their interests with passion
· Children to set their own learning goals and reach them
· The school to be vibrant, with each child actively choosing what they do and stretching themselves in whatever way is appropriate for them
· Adults to extend children's learning by practically supporting/extending their interests, and expecting a high level of engagement and focus
· A high level of respectful behavior by children and adults
Treaty of Waitangi
We embrace a bi-cultural perspective. This perspective is part of the norm as much as we are able:
· Tamariki School is our Marae and its tikanga is important to all of us
· Our learning paradigm has parallels with the ako model: learning is not compartmentalised but is an inherent part of life here; the learner initiates much of the learning; whenuatanga, etc.
· Aotearoa events (e.g. community hangi for Matariki) are an integral part of our annual cycle
· We regularly consult with our Maori community to ensure that the Maori culture is being reflected and valued within our school environment.
· Te Reo is part of normal, daily interactions from some staff
Cultural/Social Diversity
· Acceptance of others is valued; whether it is a need to accept someone's: gender; age; hair-style; race; heritage; culture; intellectual, emotional, or physical disability.
· We have students/adults with a range of nationalities, first languages, cultural beliefs, and social diversities
· Our school usually provides a vegetarian and other dietary options at shared meals.
· Parents are welcome to share aspects of their culture with interested students e.g. kanji writing, flax weaving, etc.
Inclusion
· Tamariki School operates as a whanau /extended family, offering support and encouragement to all its members.
· We seek homeliness and limit our student roll to sixty so that all members may know everyone else.
· Children mix freely irrespective of their age or gender.
· All adults are available to care for all children
· Children are valued and supported as individuals; difference is normal!
· People are expected to enable special education needs students to progress and be happy.
Learning to Learn
· Learning is an enjoyable and integral part of life. The emotional association with learning will continue through life.
· Learning is authentic. It is not done to please another or as a response to coercion.
· Self-management, thinking and problem solving are important aspects of learning to learn
· Frequent physical activity helps integrate academic content
· The process of learning and the enjoyment of learning is modeled by the adults: teachers, parents and visitors
Community Engagement
· Parents are committed to the school's philosophy
· Parents are welcome to offer classes/activities with the children/staff
· Parents are welcome in the school at any time, and often help with projects, school camps and offsite learning activities. Seeing parents regularly at school and being part of the community, reinforces the concept in the children that school and home are a continuum
· The wider community are accessed as needed by teachers, parents and children
· We have a great deal of learning outside the classroom
· We use the wider educational community e.g. interschool sports, science road shows, theatre shows, kiwi sport instructors etc.
· The meeting system, our community culture, our Special Character and our teaching approaches, encourage all members of Tamariki School, particularly our children, to develop a wide range of emotional intelligences, reflecting the intention of our vision. These are seen at Tamariki School to be pivotal to maintaining a healthy supportive community environment. Likewise the community is pivotal to maintaining the multifaceted learning paths that the children explore and develop.
Coherence
Our curriculum has a great deal of coherence because it:
· Grows out of the children's interests (most planning is responsive)
· Learning is integrated as much as possible (a project normally involves learning from different subject areas and competencies)
· Accommodates different learning styles
Future Focus
· The school has gardens for learning about awareness of our eco systems
· Children care for plants and animals
· Conflict resolution skills are fostered
· We have the nature area for the native birds and the stream at the back of the school. The students visit this area with teachers.
· We have rules around protecting (respecting) the trees for the future generations – so the students cannot damage the trees in a manner where they will not be available for future students to enjoy.
· Ecological sustainability is developed through a strong emphasis on 'trash to treasure'.
· We utilise a broad range of recyclable equipment to construct a wide range of things like, huts, toys, crafts and props for imaginary play.
· Free-flow learning environment that empowers the children to co-construct their learning with their peers, and gives easy access to all areas and activities.
· The children have the freedom to explore their interests co-operatively and independently which creating a broad range of opportunities for deeper learning.
This page was last modified on: 26 Jun 2017 23:19:26