Tracking learning
Tracking Learning at Tamariki means looking at a child as a whole person.
We focus strongly on creating deep, trusting relationships with the students and we aim to know who they are, and understand how they function.
When we refer to learning we mean learning in a broader sense and not just academic learning (although we do value this). We also mean their social learning:
How do they go about making friendships?
How do they ask to join in games? Do they have appropriate approach skills?
How do they relate to other people?
What is their emotional learning or awareness ? Can they see another person's point of view?
How do they manage stress?
How do they respond if things don't go their own way?
How do the teachers know how my child is doing? What steps do they take to ensure that my child won't fall through the cracks?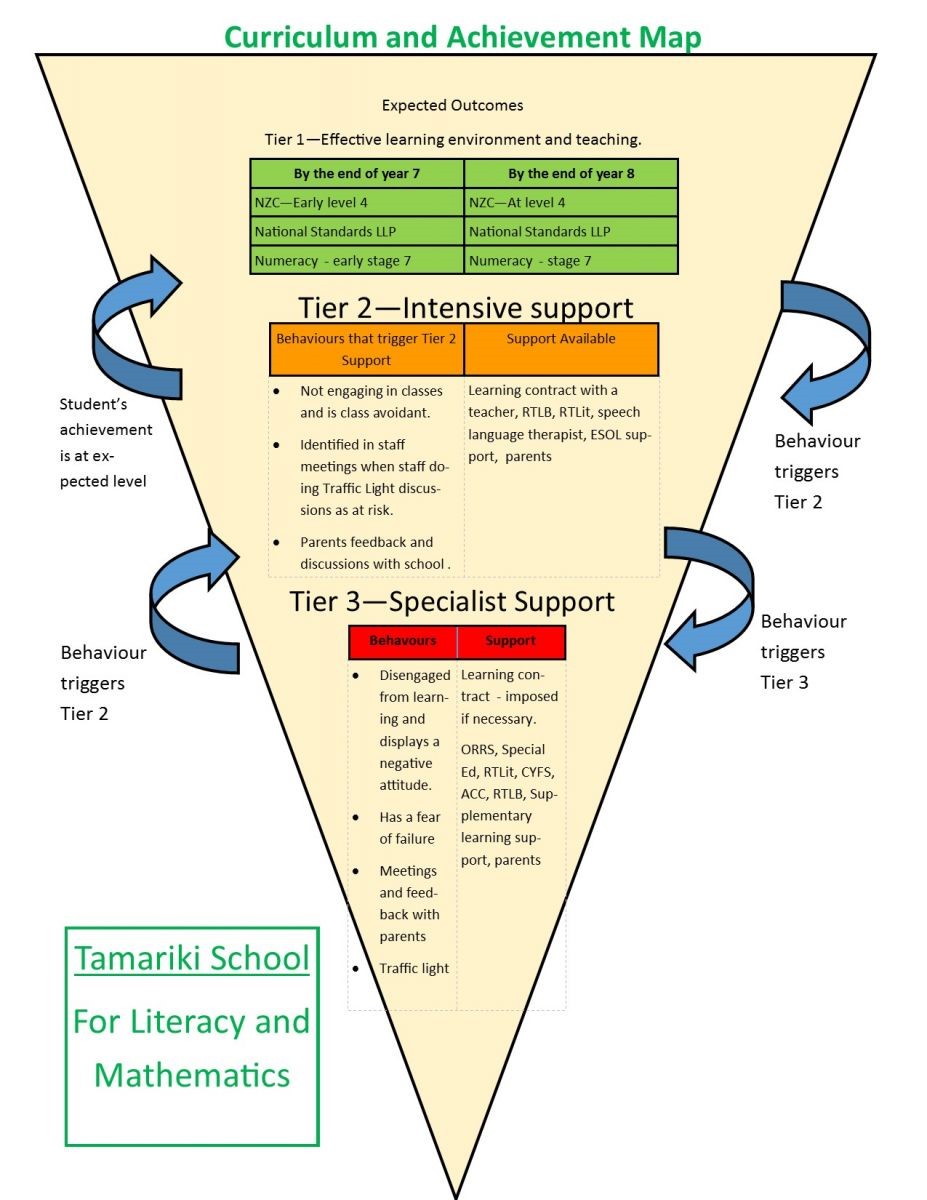 There are numerous systems in place, both spontaneous and responsive, as well as ordered and systematic. These involve staff meetings. school meetings, as well as meetings with parents and/or children.
A) We are a small school, with small numbers, so this means we get to know each child well. We regularly see the children and all the learning they are accessing.
The staff have meetings each morning before school, and also a longer staff meeting on Friday afternoons where we discuss what is happening within the school.
B) What if there is something which is not positive?
This would usually be dealt with through the meeting-system.
There are also other systems which the staff regularly utilise to assist the staff in formulating their responces:
a. Immediately responsive: If we have observed something or had an interaction which we perceive to be of concern we may discuss this spontaneously with any other staff members available at school at the time to gain their perspective, and feedback. We will usually call a meeting if a child hasn't done so already. It may also require follow up by informing the parent/caregiver.
b. Responding to the situation short term, and also informing other staff: if the situation requires follow up, or forthe other staff members to be aware of the situation and help monitor a child's behaviour it will be mentioned in the morning staff meetings.
c. Responding medium term: If the behaviours are continuing, or of a concerning nature, then a staff member will schedule it on the agenda of the Friday staff meeting for the staff to discuss the child in depth. Staff will discuss strategies and approaches to support the child/children and also the staff members effected. More consultation with the parents may be scheduled.
C) On-going systematic long-term tracking: each student is systematically reviewed twice a year in-depth with the staff discussing them, and taking notes. The staff can review what they have said previously and they discuss what growth, progress, skills they have noticed for each child. The staff also record notes about the student's academic learning. The Staff discuss appropriate strategies to best support the student as an individual both socially and academically.
D) Parents/caregivers of students, of any age, are welcome to approach staff at any time and voice their concerns, and inform the staff of any information which might be impacting on their child. If the teacher is in class etc and unable to have an indepth discussion at that time the staff are happy to arrange a time to have an indepth discussion regarding their child's progress.
E) The parents of the 8 year olds are specifically invited to discuss with staff any positives, or concerns, they have regarding academic progress and find out what other options are available to support their child's learning. This isas well as the usual twice a year reporting to parents. The information from this meeting (ie the parents viewpoints about their child), and the information from the staff meetings/class work etc is used to identify at risk students who may require extra academic support..
F) Parents are given the opportunity to attend twice yearly reporting sessions where their child will be discussed in depth.
G) Parents are welcome to initiate a reporting session outside of this regular schedule.
H) Parents get regular on-going information about aspects of their child's learning at school through receiving learning Stories, learning observations, ohotos, videos via Storypark, planning notes.
I) Some of the support staff write reports about specific students who get extra funding from the Ministry or specialist agencies.
J) Our formal class sizes are small and this means that we can observe each student, be aware of the types of questions they are asking, and the areas which they are feeling confident with, and the areas where they need extra support.
K) We use a range of assessment tools with the students attending formal classes such as: Running Records (this is where we ask the child to read to us and record notes on how they approach their reading), Literacy Interview (this is where we ask math questions and ask how they work out their answers so we can see thier strategies), easTTle
J) Students who opt into doing the EasTTLe writing assessment (a timed formal writing assessment) each recieve a one on one interview where thier strengths and next-steps are discussed. The students are given clear feedback where they are in the easTTle writing skill progressions.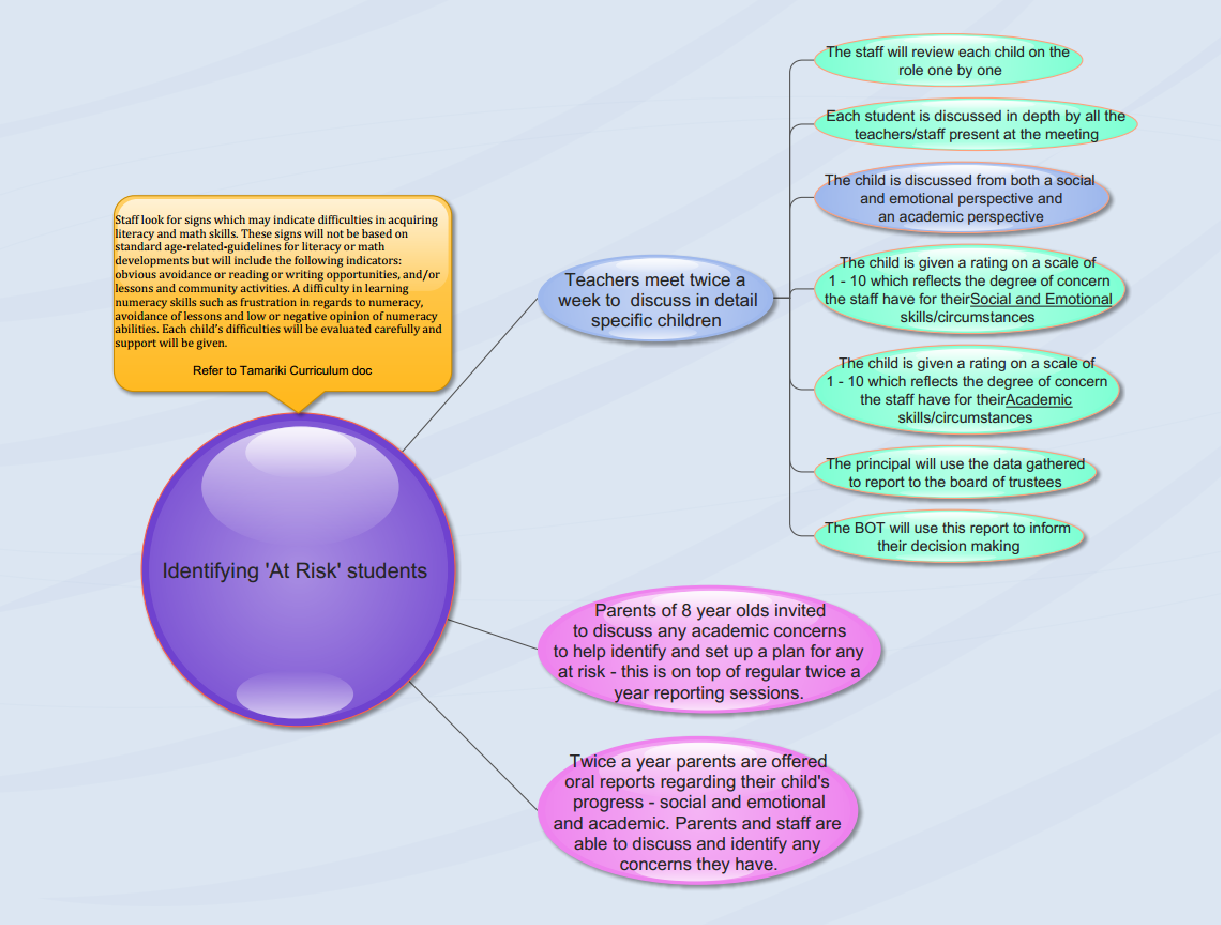 tracking learning
[ click on the thumbnails below to view large images ]
This page was last modified on: 10 Nov 2017 19:01:08